Benefits of volunteering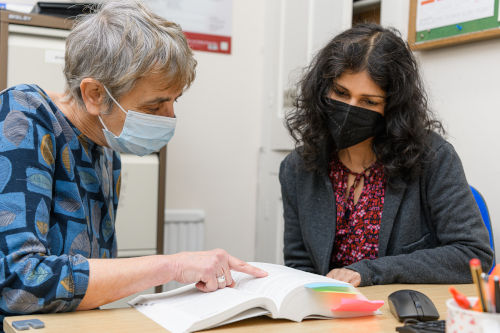 Citizens Advice Eastleigh is a charity, which means we often rely on volunteers to help us deliver our services.

Nobody can help our community better than local people, making volunteers our most important asset.

Challenging, but rewarding
Volunteering for Citizens Advice Eastleigh is a fantastic way to develop valuable soft-skills, such as leadership, communication and team building.

Our team is made up of varied and wonderful people, and you'll all work together to tackle important issues such as poverty, debt, employment, and mental health.

The role gives you the chance to make a real, felt, difference to our community, and learn about a range of topics that affect our clients.

And our volunteers love working here – in our last team survey (conducted February 2021), 100% of our members said they would recommend Citizens Advice Eastleigh as a place to work.

Apply as a volunteer
How does volunteering work?
Our volunteers give us one day a week to help our clients via a variety of channels with whatever problem they have.

Working as part of a close-knit, supportive team, we work collaboratively to ensure that our volunteers are confident in giving the best service possible.

Front-line assessors
Assessors help us process all of the requests we receive from clients, and are usually the first people that will get in touch to support them.

The role is exciting and wonderfully rewarding because you'll be dealing with people at the start of their journey to overcoming their problems.

If you choose to become an assessor, then you'll be required to complete some training which takes around 8 weeks.

Other volunteering roles
Some of our volunteers prefer to help in other ways, such as to organise fundraising and staff our events.

There's loads of ways you could support people through our charity, so we'd love to hear from you!

Training
All our volunteers get training that consists of taught sessions, webinars, group work, e-learning, and shadowing experienced advisors on the job.

Once you complete this initial stage, we'll ensure you've completed the required learning, then gradually allow you to undertake monitored interviews with clients until you're happy with the role.

Even as a full-rota volunteer, we'll conduct a yearly joint progress review to check you're feeling supported enough.

We'll continue your development with supplementary learning and opportunities to train for other roles.

Apply as a volunteer